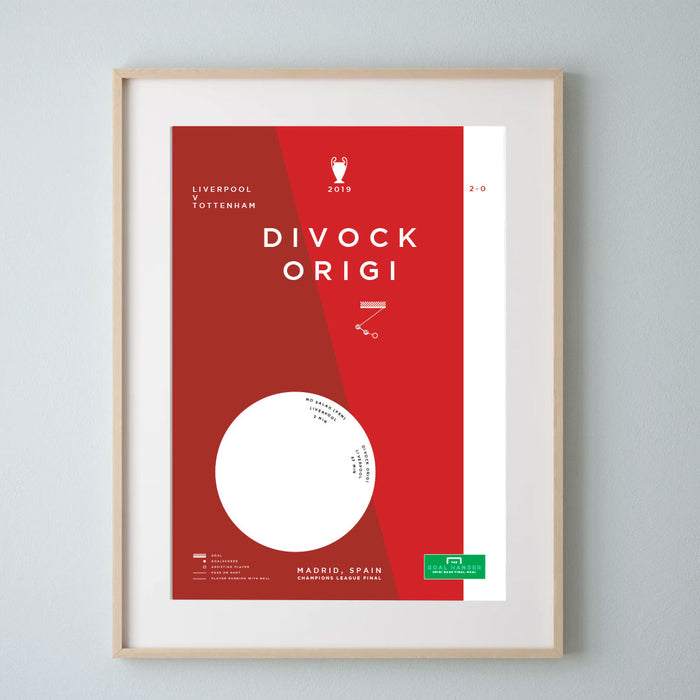 Divock Origi: Liverpool v Tottenham 2019
Our infographic football posters map out iconic sporting moments as art prints. Hang the moment Divock Origi scored the winner for Liverpool in the Champions League final on the wall - the perfect gift for any Liverpool football fan.
Frame not included.
Chosen by Kai Delaney as his favourite ever goal:
Here's to Divock. There were a few options that crossed my mind when I was asked to give my 'best' moment.
Growing up in 2000's, any number of Steven Gerrard goals would have been an obvious choice - Istanbul, FA Cup final, Olympiakos - the list goes on.
But there was one moment I couldn't look past and for me that moment was Divock Origi's 87th minute strike in the 2019 Champions League Final in Madrid.
The game against Tottenham Hotspur had been a drab affair for anyone with no emotional investment in either side, with Mohamed Salah's penalty putting Liverpool 1-0 up inside a minute and setting the tone for the remaining 89.
Spurs would never get out of first gear and Liverpool seemingly content to hold on to their lead, taking no risks. After all, why would they after the heartbreak of losing the final in Kiev only 12 months earlier?
But as the time ticked down, little did I know I was about to experience something I'd remember for the rest of my life.
James Milner's corner was headed away by Son, only for Liverpool's centre-back pairing of Virgil van Dijk and Joel Matip to win the second - and third - balls.
Matip cooly slid the ball into the feet of Divock Origi, who took one touch to set himself, and then with a swing of his left foot, sent the ball into the far corner and the Liverpool fans into euphoria. 2-0. 87 mins. Game over.
In one kick, Origi had ensured that Jurgen Klopp's men had something to show for their incredible form across the last two seasons, including missing out on a first Premier League title to Manchester City just days earlier by a single point.
It had all be worthwhile, and little did anyone know it proved to be the catalyst for Liverpool's domination of the Premier League the following season.
I said earlier that it's a moment I will remember for the rest of my life, and of course as a Liverpool fan, I would anyway. But it was made all the sweeter by a decision I made prior to the final, that if Liverpool won, I would propose to my partner in Madrid at the full-time whistle. We get married in August. So, here's to Divock.