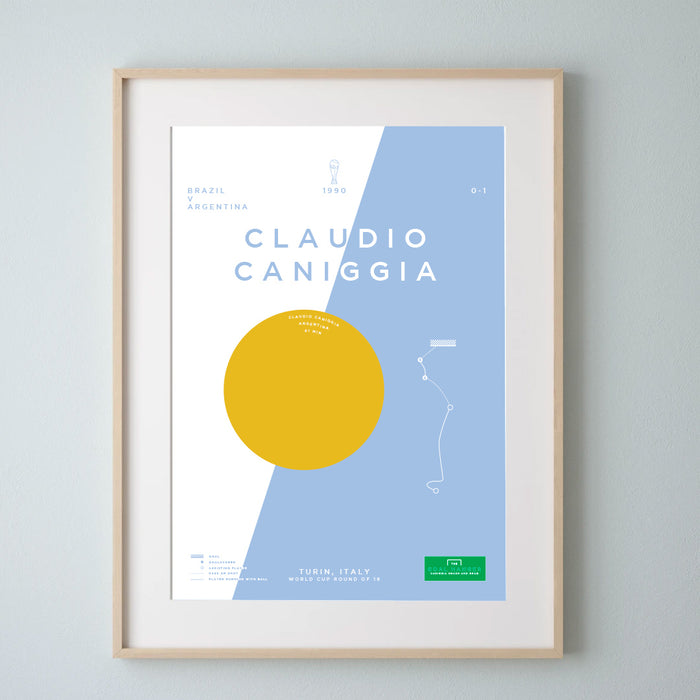 Claudio Caniggia: Brazil v Argentina 1990
Words from Ben Mayhew
The goal that made the biggest impact on me as a young fan was Claudio Caniggia's shock winner against Brazil in the second round of the 1990 World Cup. I was too young to follow the 1986 tournament but was aware that Diego Maradona had stolen the show and was widely considered to be the best player in the world, so I insisted on watching all of Argentina's matches.
They limped through the group stage in underwhelming fashion, although a shock opening defeat to Cameroon followed by their goalkeeper breaking his leg in their second match provided plenty of drama. The subsequent heroics of his understudy Sergio Goycochea were a huge part of the story against Brazil, but the conjuring of the winning goal - seemingly out of nothing - was the defining moment.
In the 80th minute of a torrid match that had seen the Argentinian defence withstand a barrage of Brazil attacks, Maradona found himself with the ball at his feet just inside his own half. Being surrounded by four Brazilian players didn't seem to faze him as he carried the ball forward, shrugging off a robust attempt to dispossess him from behind, but with a second quartet of yellow shirts stationed between him and the penalty area there seemed to be no immediate threat.
What happened next is what blew my mind. With one of the four remaining defenders now closing in to try and muscle Maradona off the ball and the attention of the other three fixed intently upon him, nobody seems to notice Argentina's striker Caniggia charging between them and into the space beyond. With his last touch as he finally loses his balance, Maradona manages to slot the ball perfectly through the legs of one defender, catching him so completely off-guard that he actually runs straight into one of his team-mates.
As the bamboozled defenders' eyes follow the ball they are horrified to see an unmarked Caniggia running onto it with just the goalkeeper Taffarel to beat. As the Brazilian keeper rushes out, a deft sweep of the leg keeps the ball just beyond his reach as Caniggia rounds him and calmly dinks the ball into the net.
Nobody - myself included - could quite believe what had just happened. People were in tears and the Brazil players looked absolutely devastated. They had utterly dominated the match and I certainly wasn't alone in assuming that they'd have broken Argentina's stubborn resistance eventually, but two moments of individual brilliance had just dumped them out of the World Cup.
I'd never witnessed a match with such a dramatic sting in the tail and I was delighted to have witnessed a flourish of Maradona's undoubted brilliance. It ended up being the high point of Argentina's tournament: they would go on to edge past both Yugoslavia and Italy on penalties before losing to West Germany in a thoroughly disappointing and ill-tempered final, but they had already succeeded in changing the way that at least one young fan thought about football.
Football analysis & visualisations with an EFL bias. Head of Data Analysis at PA Media Group: @experimental361
Frame not included.
If you have requirements outside of these specifications then please get in touch and we will see what we can do.